ACCOMMODATION
COUNTRY LODGE KARATU | KARATU
Located on the outskirts of Karatu, a quaint country town on the Great Escarpment, midway between Lake Manyara and the Ngorongoro Conservation Area, Country Lodge is situated in the centre of Northern Tanzania's green belt district and farming community. Country Lodge Karatu symbolizes simple country comforts, providing pleasant and affordable lodging in the heart of Tanzania's rich and scenic highlands. We are the ideal 'Stepping Stone' for safaris into Ngorongoro Crater and beyond, as well as other travellers visiting the area. Our lodge sits within five acres nestled on the edge of Karatu town, surrounded by rolling plains reaching up to the coffee hills of Oldeani and the forests' of Ngorongoro. Garden paths led to eleven double cottages surrounded by green lawns, hedged by brightly flowered bougainvillaea, tropical plants and trees. Birds and butterflies feel right at home in the garden, as you will in our lodgings. Come and enjoy the tranquillity, home comforts and warm Tanzanian hospitality that Country Lodge offers.
THORNTREE CAMP | CENTRAL SERENGETI
The camp is permanently based in central Serengeti, in the Seronera Valley, home to year-round wildlife due to the constant presence of water. This area is famous for spotting lion, leopard and large herds of elephant. Views from the campsite look across onto Banagi Hill and classic vistas of the Serengeti Plains. The entire camp is powered by solar including hot water and electricity.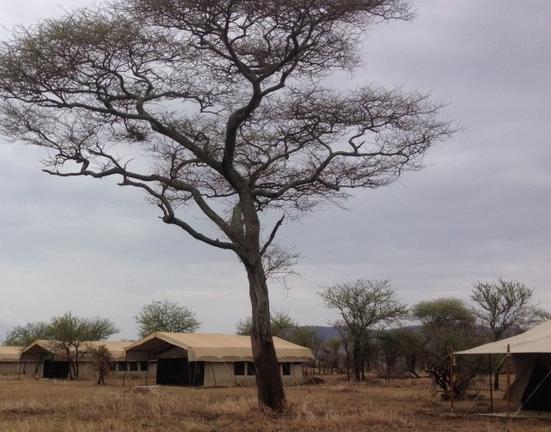 NGORONGORO RHINO LODGE | NGORONGORO CRATER
Ideally located on the edge of the Ngorongoro crater rim, the Rhino Lodge offers an ideal base from which to explore the Ngorongoro crater and it's surroundings. The lodge features 24 comfortably equipped en suite guest rooms, a cozy living space and generous African inspired meals. Each room is equipped with a wood burning stove and hot water bottles.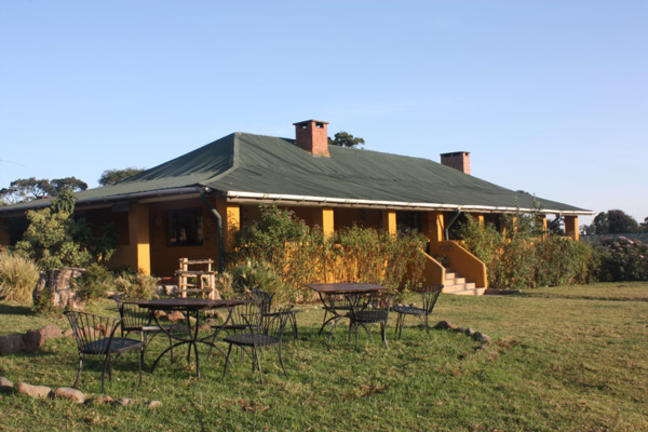 GOLD ZANZIBAR BEACH HOUSE & SPA | KENDWA
The Gold Zanzibar Beach House & Spa offers an oasis of luxury and elegance, where guests can regenerate body and spirit. The hotel is located on the beach of Kendwa, about a 50 minute drive away from the international airport. Accommodation options include elegant rooms, suites and lavish villas, as well as deluxe retreats. Guests can indulge in pure pleasure at the wellness and health club, House of harmony. Be pampered with an incredible array of personalized treatments in a relaxing ambiance. Discover stunning locations and historical sights departing from the beach house resort. The hotel's excursion desk offers a variety of tours and water sport activities.
MARU MARU HOTEL | STONE TOWN
Set in the heart of the UNESCO world heritage site of StoneTown, Maru Maru is just a few steps from the city's historical wonders, colourful markets and labyrinth of shops. Once a town house famous for its marble floors and tiles, it has now been lovingly restored to offer 44 bright rooms blending classic Zanzibar style with iconic design and modern luxuries. Its roof terrace offers one of the best views in the city with a 360° panorama and is the perfect place to enjoy a cocktail as the sun melts into the Indian Ocean. The relaxed ambiance at Maru Maru continues long into the night as people come to enjoy the authentic north and south Indian fusion cuisine, view art in Maru Maru's gallery and enjoy the captivating sound of Tahareb music as it floats into the night.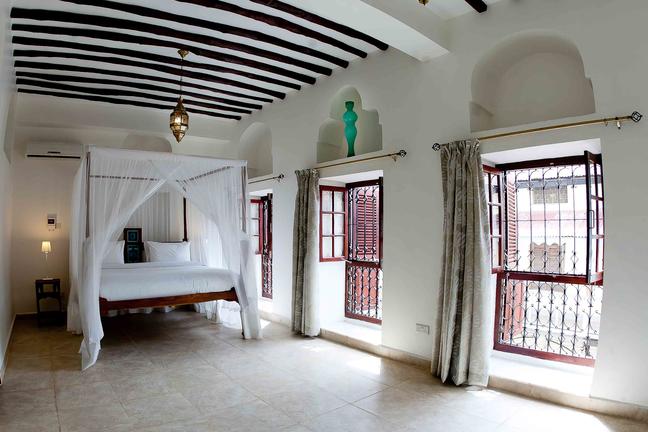 ACCOMMODATION
Currency
In Tanzania, the unit of currency is the Tanzanian Shilling, which is divided into 100 Cents. Notes are issued in denominations of 500, 1000, 2000, 5000, and 10000 Shillings. Coins are issued in denominations of 50, 100 and 200 Shillings.
Banking
Banks are open from 9:00am to 3:00pm Monday to Friday. Many banks are equipped with 24 hour ATM machines.
Credit cards and travellers checks are not widely accepted in Tanzania. Where they are accepted can high service fees and poor exchange rates be expected. Major foreign currencies - particularly US $ - are accepted in Tanzania and are convertible at banks and bureau de changes in the main towns and tourist areas. If bringing cash in US $, please make sure bank notes are in good condition, with no cuts or damage and are not older than 2004. Most banks offer higher exchange rates for US $ 100 / US $ 50 bank notes compared to US $ 20 / US $ 10 or US $ 5 bank notes.
TRAVEL, TRANSPORT AND GETTING AROUND
If you are visiting a number of parks and reserves in Tanzania, you can either drive or fly between them. Roads in most of the wilderness areas are in poor condition and unmarked, and self-driving is not recommended. Operators will supply you with a driver who doubles as an informal guide; alternatively, you can arrange to fly to your destination and utilize a car and driver supplied by the lodgings. Elsewhere in Tanzania, towns and cities are linked by a steady stream of buses and dala-dalas (minibuses), and in the cities, there is public transport in the way of buses, dala-dalas, taxis, and, in some places, bicycles or tuk-tuks.
Precision Air run regular services, mostly via Dar es Salaam, Kilimanjaro or Zanzibar, to all main towns and other destinations in East Africa and beyond. All national parks and some of the top-end luxury lodges have airstrips and Coastal Air operates between these and the main airports on the mainland and the islands of Zanzibar, Pemba and Mafia. ZanAir has frequent connections between Zanzibar, Pemba and the mainland.
Driving is on the left hand side of the road
FOOD, DRINK AND CUISINE ADVICE
Most camps, lodges or hotels cater specifically to tourists and serve Western-style food, ranging in standard, but generally are excellent. Game lodges tend to offer a daily set menu with a limited selection, so it is advisable to have your tour operator specify in advance if you are a vegetarian or have other specific dietary requirements. First-time visitors to Africa might take note that most game lodges in and around the national parks have isolated locations, and driving within the parks is neither permitted nor advisable after dark, so that there is no realistic alternative to eating at your lodge.
Tap water in Tanzania is generally not safe to drink, and most travellers try to stick to mineral water. Filtered and bottled water can be difficult to find you are travelling outside of main town and so it is advisable to stock up. Most camps, lodges and hotels have bottled water readily available.
Just south of the equator, Tanzania is huge and its sheer size means that the climate varies considerably within it. However, generally the main rainy season, or the 'long rains', lasts during about March, April and May. Afternoon tropical downpours are the norm – which are heavier and more predictable beside the coast and on the islands. The humidity is high and daily temperatures reach the low-mid 30°s.

The long dry season lasts throughout June, July, August, September and October is when rainfall is unusual, even on the islands. Temperatures vary hugely with altitude and location, but it's usually a fine, clear sky and sunny weather – it's a great time to visit Tanzania. During November and December there's another rainy season: the 'short rains'. These are much lighter than the main rains and less reliable.

If it has rained during the short rains, then it normally dries up for a few months, January and February, which is Tanzania's 'short dry season', before starting to rain again in earnest in March.
CLOTHING AND DRESS RECOMMENDATIONS
It never gets really cold in Tanzania so lightweight clothing, preferably cotton or linen, is recommended. While on a game viewing safari, avoid brightly coloured clothing, stick to whites, beiges, khakis and browns. There may be long days sitting in safari vehicles, so it is advisable to wear light comfortable clothing such as short sleeved shirts and cotton/linen trousers or shorts. Denim will become too hot and extremely uncomfortable. Walking shoes and socks will be required.
The evenings will be chilly, so long sleeved shirts and trousers should be worn. A sweater may be needed. These will also prevent you being bitten by insects. A hat should be worn at all times outside. The sun may sometimes not feel hot, but it can still easily burn, especially if it is cloudy and overcast.
If visiting Zanzibar or any coastal town don't forget to take a swimsuit, as it is invariably warm. Ladies are recommended to take cotton skirts, blouses and dresses. Sandals are a must for this environment! On the beaches and within the confines of hotels, normal swimwear is acceptable but nudity is not.
As over a third of the population in Tanzania is Muslim, it is therefore not etiquette for ladies to walk around in public displaying their legs and shoulders. Remember to dress modestly as short shorts, miniskirts, vests and tank tops will be frowned upon.
ELECTRICITY AND PLUG STANDARDS
The electricity supply in Tanzania is 220/240 volts at 50Hz. Plugs are 3 point square (UK Type). Adapters are available at major airports.